source:theguardian.com
Inside the studios of Iran's artists
Italian photographer Matteo Lonardi headed to Tehran to learn about the country away from the news headlines and through its artists
The studio of Bita Fayyazi, 53, is set in smoggy south Tehran, far from the affluence of the capital in the northern reaches. Her art is complex and theatrical, achieved by working with a range of material and people. From those interactions she draws her inspiration. For a recent project, she had a group of people from different socioeconomic backgrounds decorate the interior of a house. Photograph: Matteo Lonardi
In secondary school in Italy I was taught art as a form of understanding our predecessors. Teachers compared the harmonious proportions of classical Greek statues to the social equilibrium achieved in Athens in the fourth century BC, and linked Picasso's Guernica to the horrors of the Spanish civil war.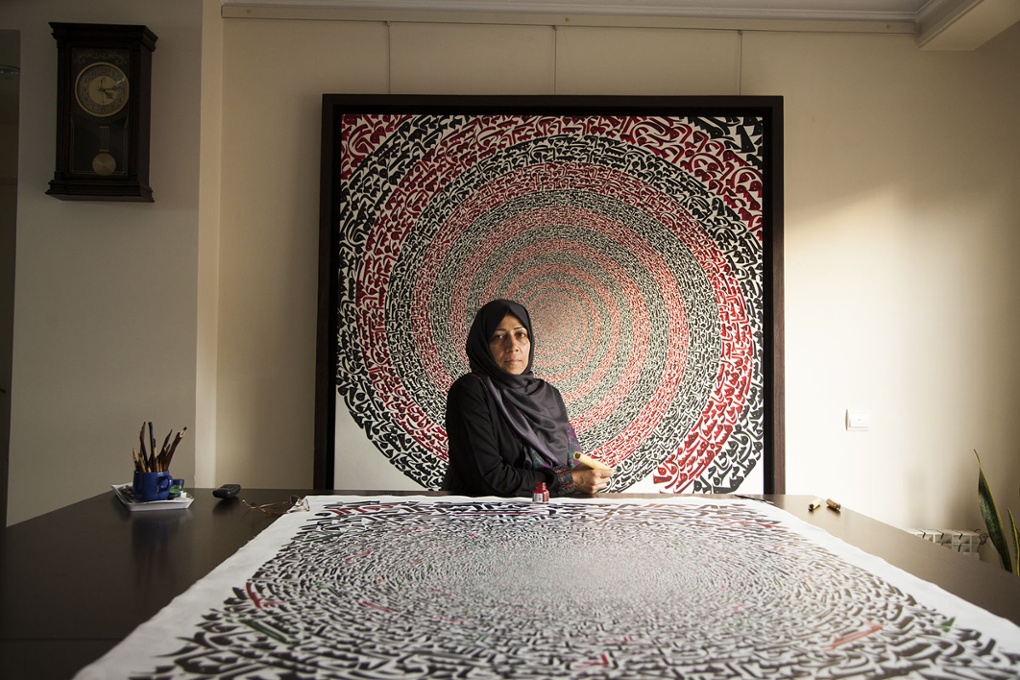 Azra Aghighi, 49, was born in Qom and fell in love with the forms of her written language early on. She studied a traditional form of calligraphy at university and devoted herself full-time to her art once her children had grown. She finds working long hours at her canvasses therapeutic. While religion is a big inspiration, she says it's not at the heart of her practice. She believes that the forms of her letters go beyond the meaning of the words. Photograph: Matteo Lonardi
I was fascinated by the connection between art and history. A few years later, after moving to New York for college, this connection appeared to me not in history books but in the studios of Indian artists.
In the summer of 2010 I was an intern in New Delhi at The Little Magazine, an arts and culture publication. The editor asked me to make an archive of works the magazine was publishing. The first day she gave me a list of names and cab fare.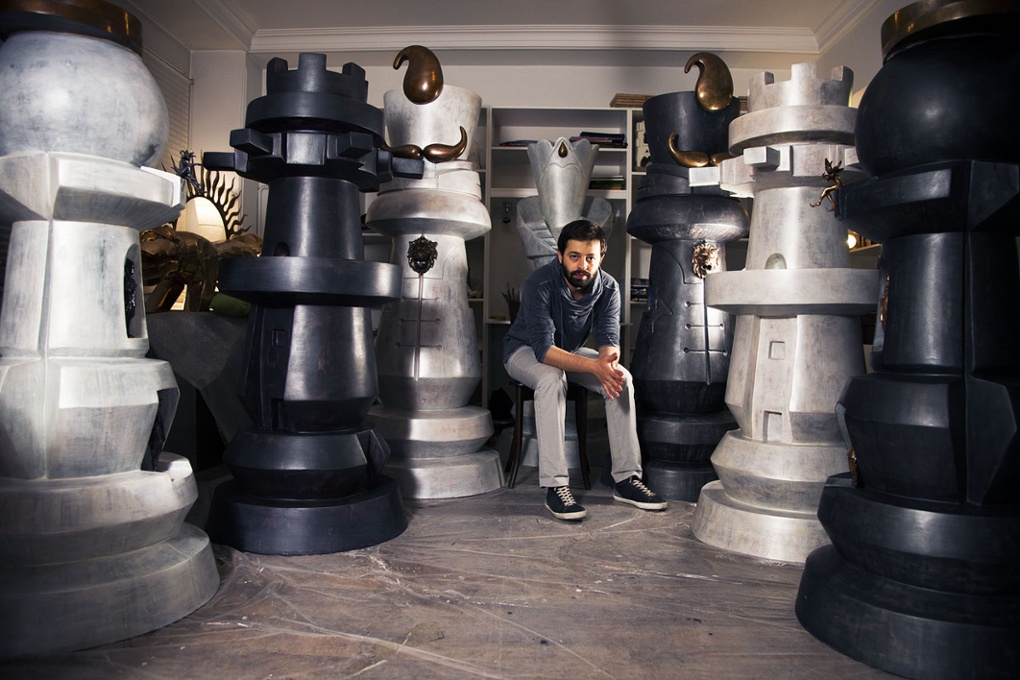 Hamed Rashtian, 31, has worked as a sculptor for a decade using a variety of materials from bronze to fiberglass. He has now turned to combining traditional Persian iconography with elements of contemporary and pop culture. He says he is also fascinated by kitsch, which has become a trend in Tehran among artists and collectors. Photograph: Matteo Lonardi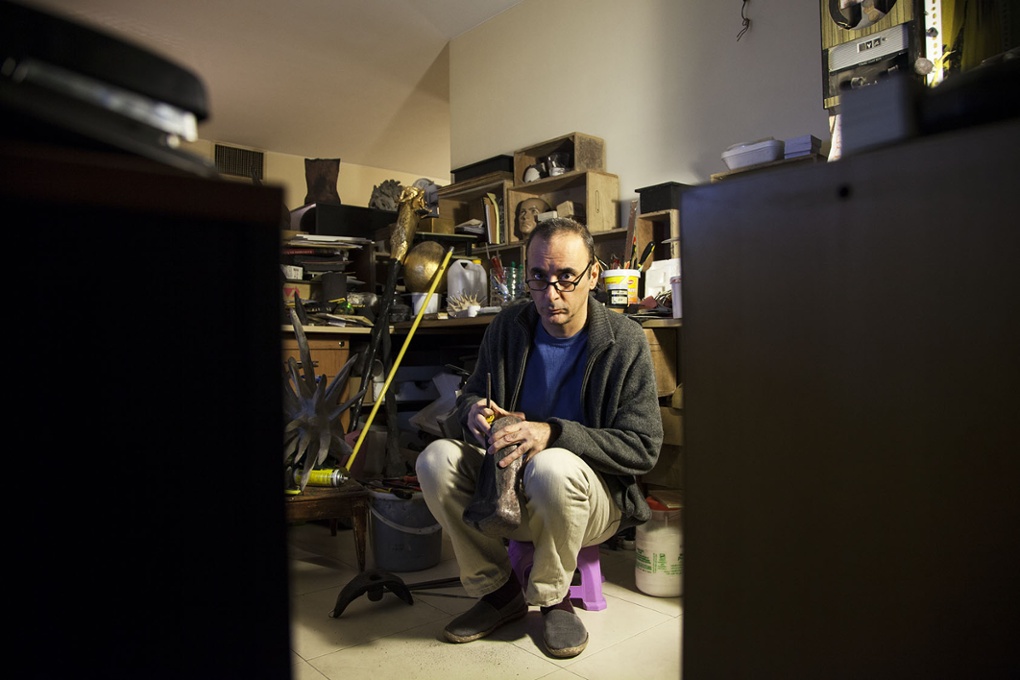 Houman Mortazavi's studio was covered with strange sculptures and masks. The tools he uses to carve these fascinating objects were laid out on a desk next to an array of dismembered head casts and other objects. The 51-year-old said it was a deliberate choice to make art that had virtually no chance of getting exhibited or being sold. Photograph: Matteo Lonardi
At each studio, I photographed a few works. Soon I started interviewing and photographing the artists in their work spaces as well. I realised the stories and the images together offered interesting insights into Indian society and politics.
Afterwards I continued the project in Italy, Morocco and New York. A few years later, at Columbia Journalism School, I applied as a team of fellow students for a grant to continue the project as multimedia.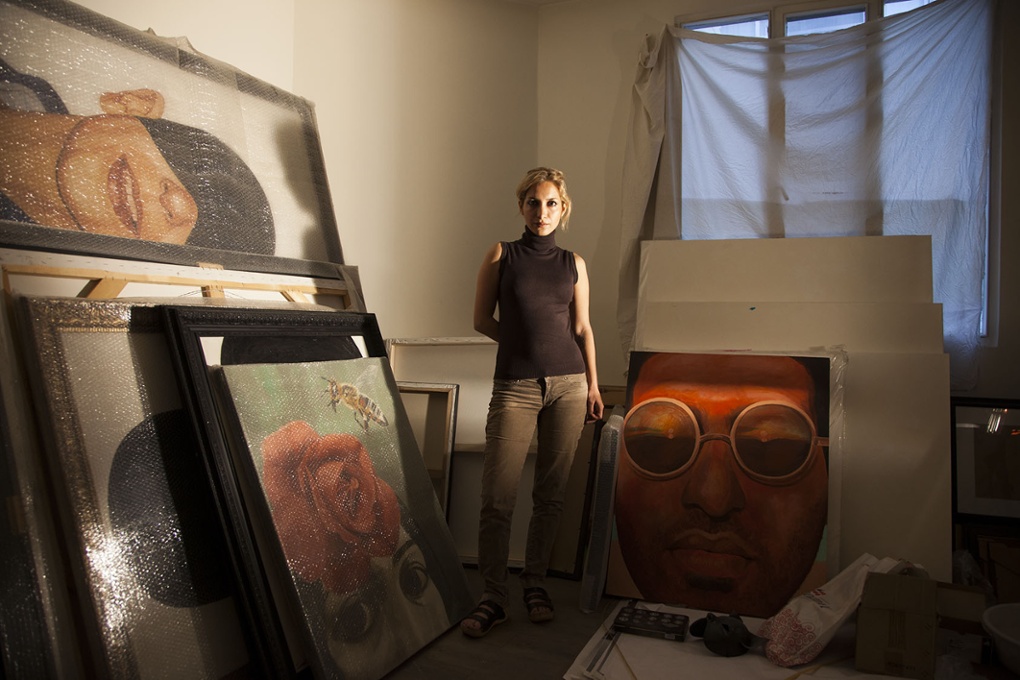 The back room of Samira Eskandarfar's apartment in central Tehran is a messy studio where she spends hours working with oil on large canvasses. The faces she paints seem aimed at expressing sadness or distress. But the product of this inner struggle are images of people with a sense of calm and resignation. Photograph: Matteo Lonardi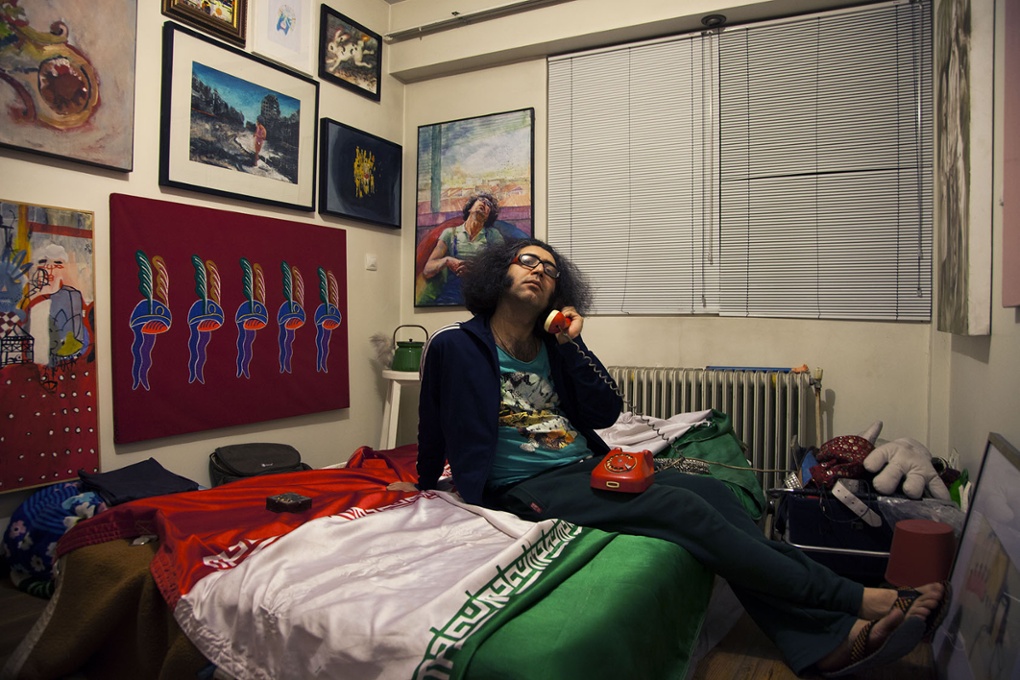 Vahid Sharifian, 33, is a painter, poet and writer. Over the past decade, his apartment has been a meeting point for artists and travelers alike. Though he is unable to leave Iran, he's made a name for himself in the international art scene through the Internet. His controversial work includes a very realistic life-size statue of a nude Angelina Jolie and a stategically positioned peacock. Photograph: Matteo Lonardi
We chose Iran as a place to look at through its artists. We felt that media's relationship to Iran had been based on stereotypes and one-dimensional portrayals. The idea was to talk about Iran through art instead of politics. The project, called Reframe Iran, uses photo, video and virtual reality components.
When I arrived in Tehran and began interviewing and photographing visual artists I realised that my idea of looking at a place through artists' perspectives was naïve. Iranian art, as made today, is largely based on concepts imported from the west. So how could I understand a place through a language brought from the same place I was from?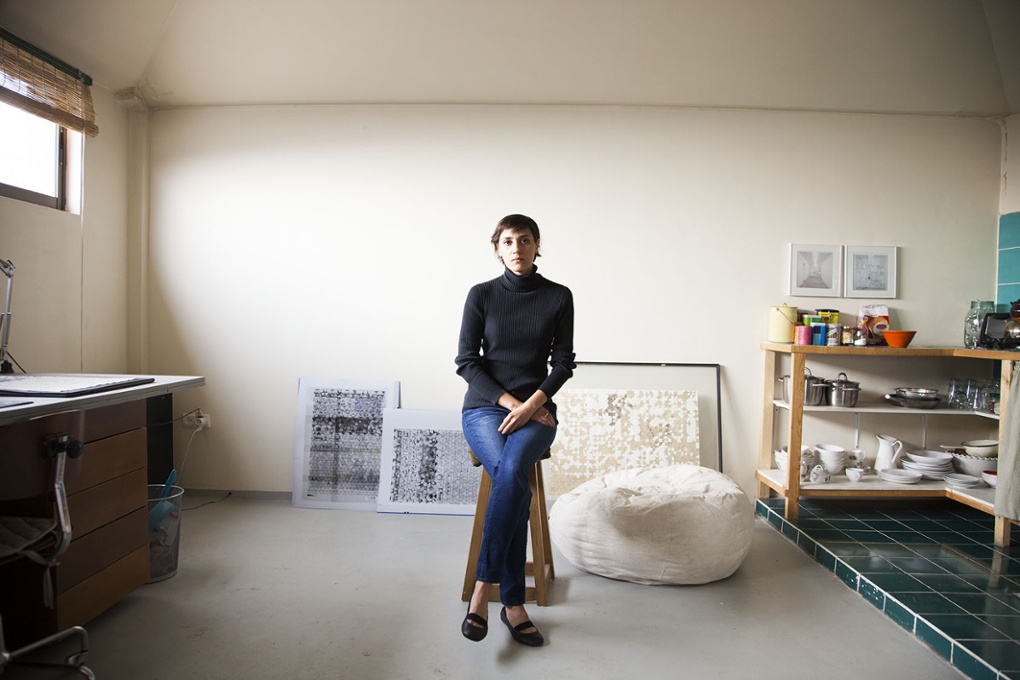 Decades of savage construction have taken their toll on Tehran.
Nazgol Ansarinia, 36, is a sculptor. Her topic is the architecture of this metropolis and her art a seeming critique of policies that failed it. She has been mapping the 'memory' of the city through signs that remain of older buildings. Photograph: Matteo Lonardi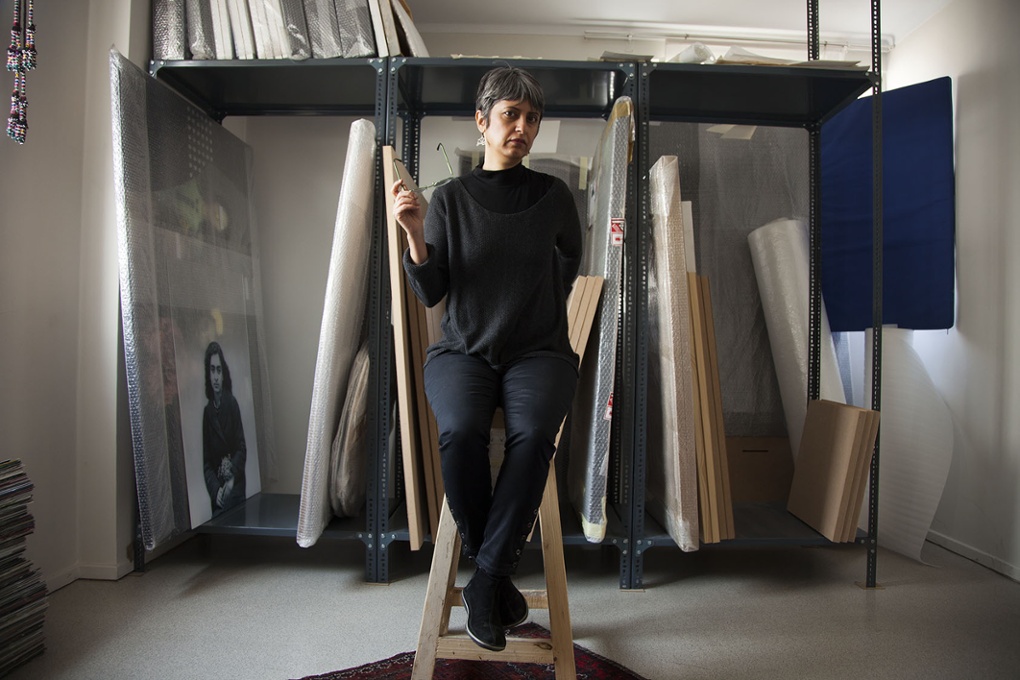 Samira Alikhanzadeh, 50, has been collecting pictures from old photo albums, then manipulating them to create large surreal representations of a society long faded. She prints the photographs on boards and retouches them with acrylic paints. The subjects are usually women, depicted with their eyes covered over with mirrors. Photograph: Matteo Lonardi
I don't want to pretend that I've solved this intellectual issue or that this series of pictures will solve the problem of how the western media portrays Iran, but I like to think it can help add some nuance to the picture.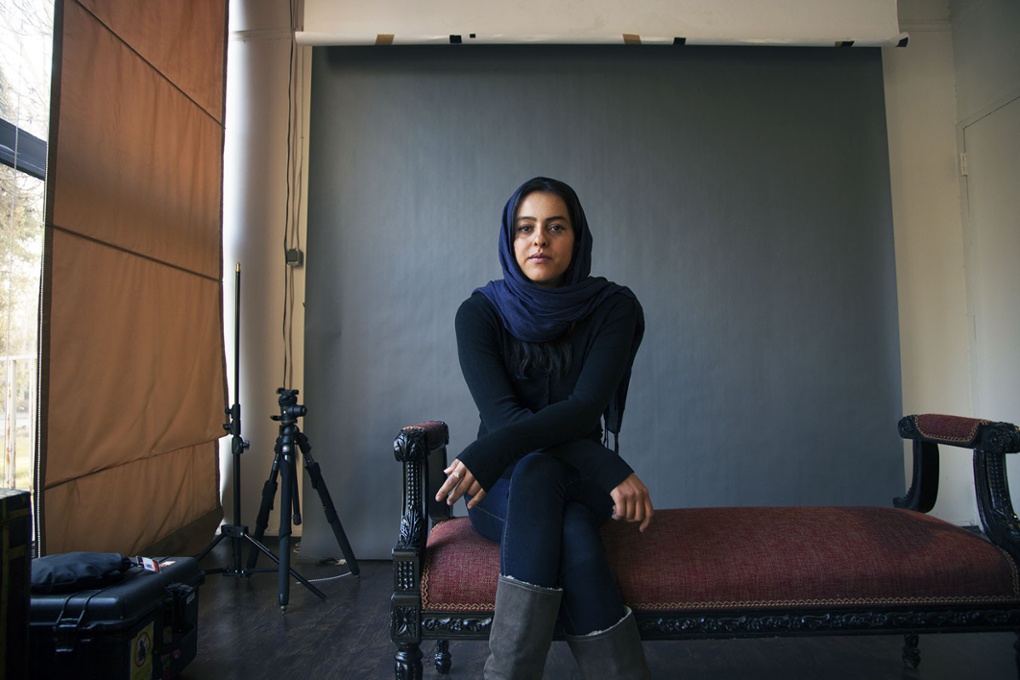 Newsha Tavakolian, 34, is an award-winning photojournalist and artist. She dropped out of school at 16 to pursue photography. During the reformist presidency of Mohammad Khatami she had an opportunity to document the country at a time of deep political and cultural change. Her more recent work seems to continue to be marked by it.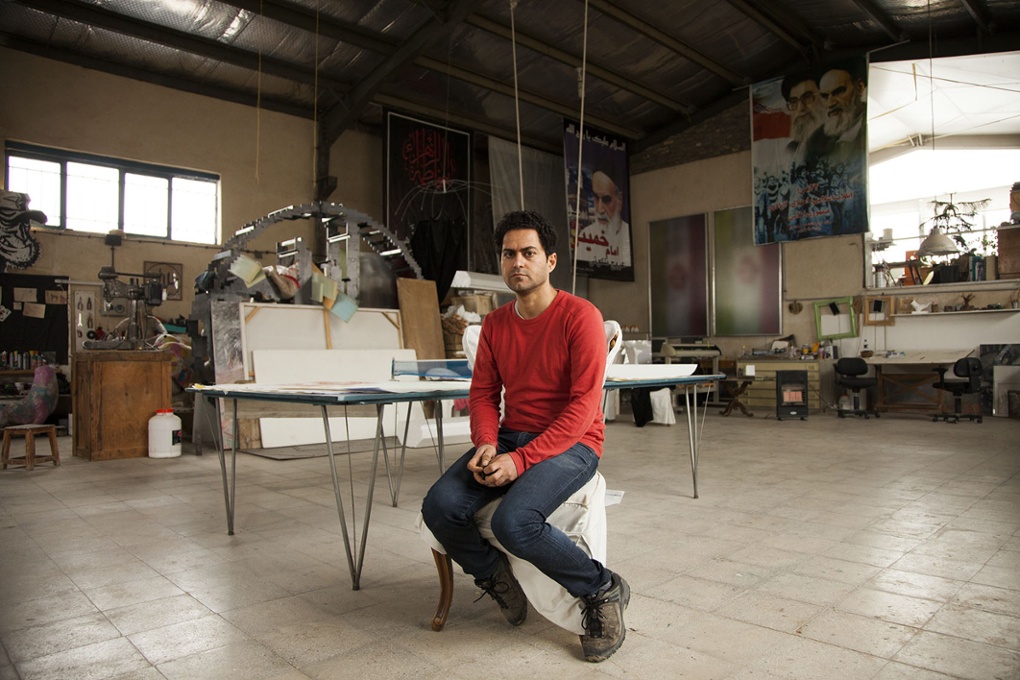 Mahmoud Bakhshi, 38, is inspired by the rich iconography of the post-revolution and objects he finds. Islamic symbols are mixed with industrial and urban imagery to make a statement. In one landmark show in Tehran, he displayed a series of Iranian flags blackened by pollution. In his early days, he hoped his art would have the power to bring about change. Photograph: Matteo Lonardi